Floating Contact Form Portlet
Back Time-Critical logistics - Unmatched speed and hyper care with Quick
A premium logistics solution that provides round-the-clock support and efficient transportation for your time-critical requests.
Are you worried about shortages or delays in delivery causing massive disruptions to your business, like production line shutdown or failure to reach the market on time?
At Kuehne+Nagel, we understand the complexities of shipping mission-critical goods at the last minute. To help you combat challenges like unavailable flights or limited last mile options, we've developed 'Time Critical powered by Quick'. It is a premium shipping solution that ensures your urgent goods are handled with hyper care, while meeting your strictest deadlines.
Is your shipment time-critical? Call us on the following numbers:
Europe: +44 208 757 7582
Americas: +1 703 991-8082
Asia Pacific: +65 3105 1537
We've created this solution in collaboration with Quick Group (a Kuehne+Nagel company since 2018), who are global experts in time-critical logistics. We know that a standardised supply chain solution isn't sufficient while shipping mission-critical goods. We work with carefully selected carriers and use optimised routes to deliver your shipments in the fastest and most reliable way possible – customising the solution based on your specific needs.
When every moment counts, you can count on us
Since time is of the essence for such deliveries, we provide round-the-clock operational availability - including out-of-hours collection and 24/7/365 customer care. In case of unexpected delays, our specialists swiftly put a contingency plan in motion to save time and minimise disruption.
Trust is fundamental to the delivery of these critical shipments. To promote transparency, our advanced digital tools provide you access to all logistics information from a single database – including shipment arrival times, location and temperature monitoring. This helps you manage your projects efficiently and make informed decisions quickly, while giving you complete visibility and control. However, even though our experts are constantly developing the technology to serve you better, we understand the importance of receiving personalised guidance in urgent situations. Therefore, you'll get regular and proactive notifications from our support teams at every major touchpoint in the shipment journey, right until it reaches your desired destination.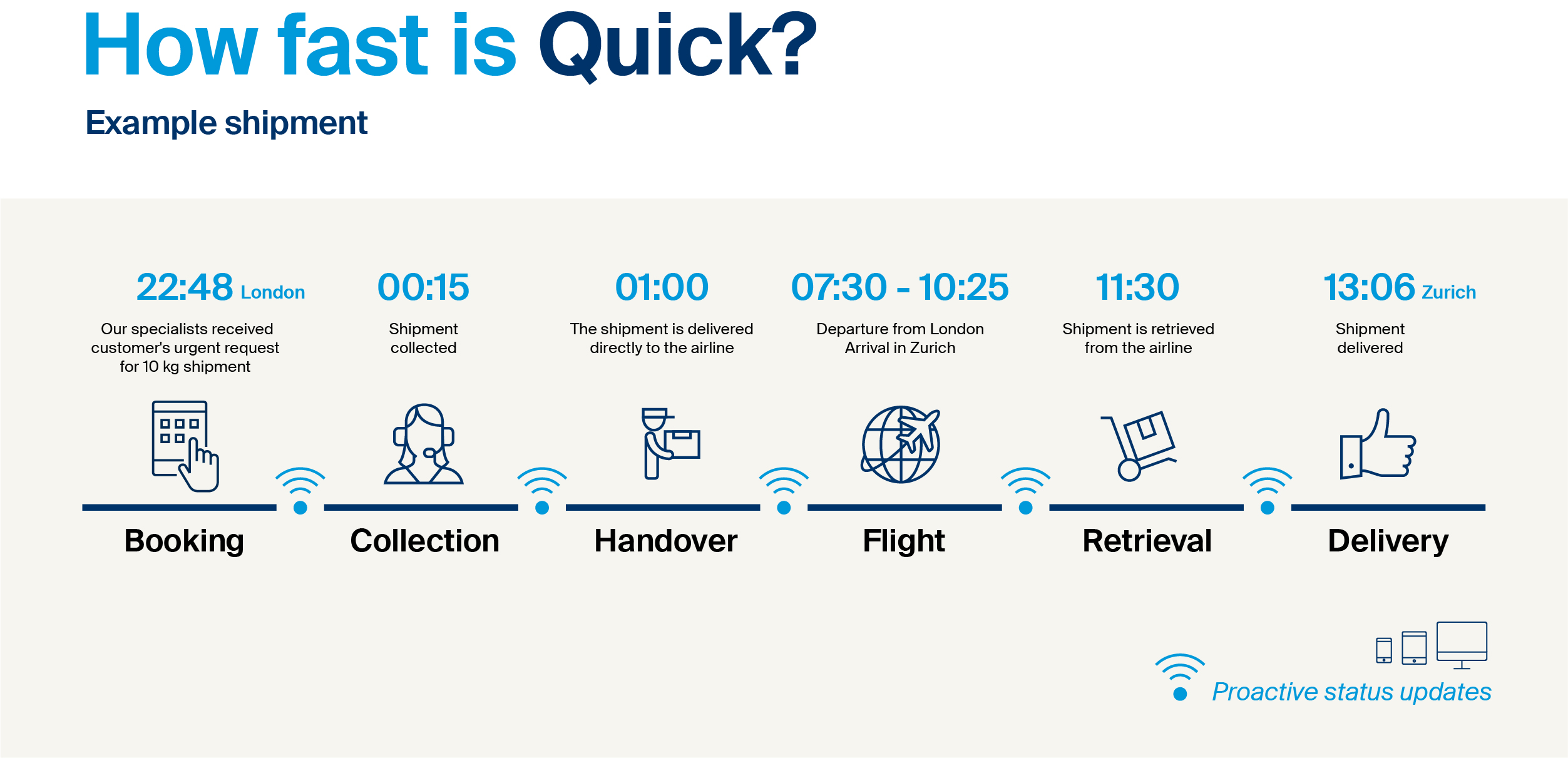 Your benefits:
Work with experts who are available 24/7/365 to provide end-to-end support of your time-critical shipments
Take advantage of our global solution to navigate efficiently through local regulatory requirements for fast and reliable deliveries
Work with an interconnected network of Quick specialists who design customisable, shipment-specific solutions to meet your deadlines
Minimise your supply chain disruption with our contingency planning for unpredictable situations
Stay informed about your shipment status with proactive communication from our teams at every crucial junction during the journey
Choose from a wide variety of solutions, including On Board Courier (OBC), Next Flight Out (NFO), and Next Drive Out (NDO)
Talk to our experts today to find out how we can support you with your time-sensitive shipments.